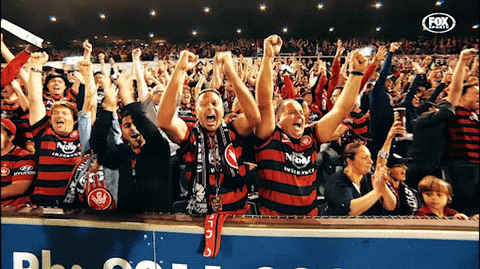 The Western Sydney Wanderers (WSW) astonished Australia's A-league with making it through to the grand final on their debut year. Unfortunately they lost 2 nil on Sunday 21st April to the Central Coast Mariners. Despite their loss, supporters roared and sang for their team throughout their extraordinary season. The Wanderers moved in leaps and bounds in their inaugural season, winning the Premiers Plate, breaking win records and selling out stadiums.
Parramatta City Council was at the forefront of supporting the Wanderers. Along Parramatta's Church Street, black and red flooded the restaurants and café's. Lord Mayor of Parramatta, Cr John Chedid, said the Wanderers have achieved the remarkable – they're through to the Grand Final in their debut season.
"In our eyes, the Wanderers are champions and to have won the Premiers Plate and made the Grand Final in just their first year in the competition, is worthy of special recognition," Cr Chedid said.
With such a remarkable debut to the A-League, the WSW will enter next season with confidence and determination to make sure they follow through to win the grand final.
During the end of season march at Parramatta's Church Street on the 23rd of April, local supporter Raymond Nair mentions "I think next year will be even better."